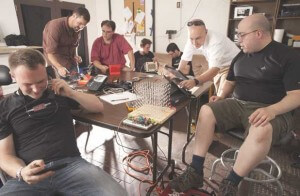 Laboratory B is Burlington, Vermont's  member supported hacker space. Started in the Fall of 2010, at the Burlington 2600 meeting. It is now located at 187 South Winooski Ave in Burlington Vt, just a short walk from downtown. It's offers 700+ sq. ft of hacker/maker fun.
Laboratory B members are interested in  a wide variety of technologies and related issues. Project range from anti-surveillance fashion to cloud infrastructure.
We are located at 187 South Winooski in the back (in the Freezer)! Call 802.540.2524 (press 1 for the Lab phone) if you get lost. Use this PDF map to help you get here!
We are looking to grow our awesomeness by hosting more events and building our infrastructure. Please see the events page to see what have going on.
We are incorporated in the state of Vermont as a non-profit bylaws can be found here.  We are currently submitting our application for federal non-profit status.
A short list of our current features: 
Microelectronics workbench.
20 Mbit/s of symmetric Internet access from Burlington Telecom
Free Wi-fi access
Plenty of desk space.
Workbenches
Tea Station
Magic Bins
Member Storage Area.
PBX
Whiteboards Galore
Virtual Machine Server
Features we are looking to build and acquire:
3D workstation & 3D Printer (we hear they are cool)
Laser Cutter!
Capture the Flag Network.
Separate Physical Fabrication space (Dirty Lab)
Vacumn Bot